In Memoriam
Robert Gurtler ammong the champions to Fodderstack 8K
In memory of Robert Gurtler, February 21, 1935-2022
Bob was the mayor of tiny town of The Plains. The population of The Plains was 266 at the 2000 census.
The Plains is centered around Virginia Route 55 (John Marshall Highway) and Virginia Route 245 (Old Tavern Road).
The Plains is a town in Fauquier County, Virginia County, Virginia, United States.
Robert Gurtler was ubiquitous at local races, even at age 87.
Gurtler was a mega racer, running more then 100 races a year, often winning his 70+ age group, even when runners in their 70s competed against him.
He nearly won his age group at Leesburg 20K, but jovial Leesburg resident Terry McCarthy, 76, bested Bob Gurtler, then 76.
Gurtler projected to again finish with more than fifty 5Ks and 100 races in ba year.
He spent many years building the company Atlantic Research, which became Aerojectb.
Robert always wore Aerojet's t-shirt to races and benefited greatly when Aerojet merged into Rocketdyne
In memory of Laura Ingles, March 16, 1946 - November 8, 2021
Inspired by her daughter Penny, Laura ran / walked many races and won her age group a few times.
She will be dearly missed.
It is with great sadness and a very heavy heart... that I share with you the passing of my Mom (and my best friend)... Laura Ingles.
She lost her battle with cancer late last night.
She was a late comer to track and field.
I had been trying to convince her to compete with me, but she kept saying "I am too old."
Back in 2017, I introduced her to Julia Hawkins, showing Mom, age is NOT an excuse.
Mom agreed to do a relay with me and quickly fell in love.
Over the past 3 years, she made lots of friends.
She loved the support (and of course the bling.)
Laura's physical disabilities made it very difficult for her to be fast, or even throw far.
She had the biggest heart and I am so proud of her!
She tried her darnedest. She always gave 100%. She never quit and most importantly...she had a lot of fun.
From Dignity Memorial:
Later in life, Laura discovered Track and Field. It was through her daughter, Penelope who convinced her she could become an athlete. Laura and Penelope became known as the Mother Daughter Duo. Laura enjoyed the short distance runs, discus, and javelin. In 2018, she won her first National Championship Gold medal. She was a member of the Potomac Valley Track Club.
From Penny Ingles:
Laura Ingles joined the Potomac Valley Track Club in the fall of 2017. She participated in her first Indoor National Championships in 2018, helping PVTC bring home the National Championship Club title.
Laura started doing 5K races back in 2001. She joined a team of co-workers, who walked in the National Race for the Cure. Laura did this for a few years and then wanted to do other races. Laura's Daughter Penny found other races and soon they were venturing around Virginia and Maryland. Laura was able to convince her husband Mike, to join her in a couple of the races, making it a fun family affair.
In 2005 Laura became seriously ill and almost died. She spent three weeks in a coma. Laura needed to gain her strength. Penny encouraged her to do the Women's Distance Festival, which is a series of local 5K races for Women. Laura excelled and wanted to go further. Later that year, they entered an 8k in Richmond Va. The following year she finished her first Half Marathon in Virginia Beach. That was the beginning of what would become "The Mother-Daughter Duo."
Laura continued to do road races, until she could no longer physically do them. That is when she joined PVTC and transitioned to shorter distances. Laura fell in love with Masters Track and Field. Every meet she participated in, she was met with tons of encouragement and support. This brought her great joy... in addition to the friendships she made. She also treasured the time with Penny.
Laura soon found out there was more to track and field then running and doing relays. Penny introduced her to discus, shot put and eventually javelin. Laura had multiple physical disabilities, which prevented her from doing most of the track and field events. Penny was able to work with her, and show her, disability and age was not a factor. Laura went on to win numerous USATF Association, Regional and National Championship medals.
In memory of Larry Dickerson, July 30, 1931 - October 26, 2021
Larry ran many races as a PVTC member, and when he wasn't running, he helped as a volunteer
Let Freedom Run 5K, on RunWashington Magazine, July 4, 2011: "Racing two weeks shy of his 80th birthday, Larry Dickerson of Burke, VA (325th, 29:13) broke out red, white, and blue shorts he only wears once a year. A runner of nearly 50 years, Dickerson recalled that he got the shorts 'somewhere along the line' while a member of Lockheed Martin's corporate team."
In memory of Lawrence Edwin Dickerson, Jr.
Memorial Service
Saturday December 11, 2021, 2:00PM
Church of the Good Shepherd
9350 Braddock Rd., Burke, VA 22015
In memory of Nancy Bullock
In fond memory of Nancy Nightingale Bullock, always helpful at races and wife of Robert Gurtler
In memoriam, leave any stories, messages thoughts about Nancy, and pictures on Nancy Bullock's FaceBook page

Robert Gurtler and Nancy Bullock
In memory of Ralph Romain
POSTED BY: KEN STONE JUNE 20, 2021 - Source: Masterstrack.blog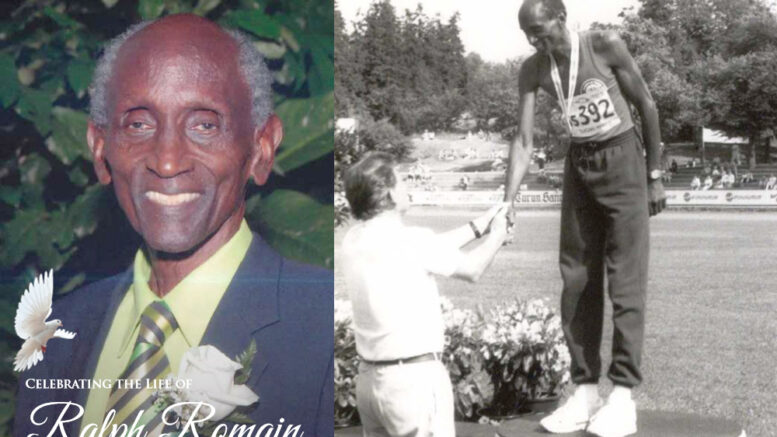 Ralph Romain is shown accepting the gold medal for winning the M55 400 in 53.41
at the 1991 WAVA World Veterans Championships in Turku, Finland
Ralph Irving Romain was an education expert who worked for the World Bank and UNESCO. He taught history at New York's Medgar Evers College of CUNY. In the 1960s, not long after his native Trinidad and Tobago gained independence from the UK, Ralph was the Caribbean nation's education minister, writing a 15-year plan through 1983.
"Equipped with training at the graduate level at Cambridge University, Romain took on the challenge of creating an educational system designed to allow equal opportunity to quality education for all the children of the country," wrote Ralph Henry in the nation's oldest newspaper. "He was fired by the idea that the future of the country was carried in the book bag of students."
Ralph should be revered as much for his world education expertise as his track speed. Check out his report to the World Bank.
Sadly, Ralph Romain was fired as a "permanent secretary" of education when his plans ran afoul of the church schools that dominated his nation. He was demoted to "special adviser" and given a desk "somewhere else in the bureaucracy." In 1990, he filed a complaint against the United Nations Educational, Scientific and Cultural Organization after not being reappointed to his job as director of the Educational Financing Division of the Paris-based International Bank for Reconstruction and Development, aka World Bank. He lost his case.
But Ralph — who died of a heart attack May 23 after suffering from dementia for a decade — didn't lose his athletic fire.
Starting around 1991, he set a series of world records in the 200 and 400 that continue to amaze. He remains the listed WMA M60 record-holder for 400 - a stunning 53.88 at age 63 at the 1995 Buffalo world meet. Tall and lanky, Ralph ran a WR in the M55 400 of 52.52 that lasted 13 years until Charles Allie ran 52.24 in 2003. Ralph's M65 WR at 400 of 57.27 was set at South Africa worlds in 1997, since beaten by legends Guido Müller and Charlie. His 61.01 WR for M70 set at 2003 Puerto Rico worlds has been topped as well.
But memories of his magnificence are still fresh.
Fellow WR man Steve Robbins told me: "I only talked to Ralph a few times. He was incredibly nice but reserved. I loved watching him run the 2 and 4. He'd give up 10 meters or so to the competition in the first 50, then he would unwind those long legs and he would begin eating up ground. He ran so smooth and effortlessly. He was a class-guy and one of the major stars of masters track."
Ralph ran sprints into his late 70s.
Aussie sprint legend Peter Crombie recalled: "Ralph Romain ran one of the most incredible 400m races I have ever seen during the world titles in Turku, Finland, in 1991-M55. I saw this tall streak standing at the start of the race with his hammy all bandaged. I presume he couldn't get down. He started the race in what seemed a stroll where he was behind others and gradually built up speed down the back straight with very long strides which seemed to be overstriding. At the 200m he was probably just in front and then he left them all to win by almost 3 seconds in 53.41. Reg Austin won the M50 age group in 53.63 and he was a world superstar in the lower age group. Ralph was 59 and was actually 60 on the day of the race, but had to run in the 55 age group because he was there at the first day of the meet. So he broke a M60 WR in a M55 race. David Ortman of Seattle said: "I competed in the WAVA-Buffalo world masters meet in 1995 (in M40) and saw Ralph win the M60 400m in what is still a world masters M60 age-group time of 53.88. He also won the M60 200m in 25.87 into a -5.3 headwind! Awesome then, awesome now."
In November 1992, Jerry Wojcik wrote in National Masters News: "Ralph Romain, 60, of Trinidad and Tobago didn't let a pouring rain that moved the high jump indoors deter him from a world record at the Potomac Valley Games in Alexandria, Va., on September 6. Romain, who holds the M55-59 world record at 52.6, broke the M60-64 record for the 400 with a hand-timed 54.6."
Ralph's daughter Jacqueline — one of seven kids — informed me of Ralph's passing and added other details.
"He lived in Curepe, Trinidad, and died in St. Joseph, Trinidad, after a heart attack. He had had dementia for over 10 years. He was retired from the World Bank in Washington, D.C, working in their education department. Before that, he taught history at Medgar Evers College in NYC and was also the permanent secretary of the Ministry of Education in Trinidad in the 1960s. He also spent two years at UNESCO in Paris in the late 1980s. His funeral service was held on June 1 in Trinidad and a second memorial service was held on June 5, also in Trinidad. Besides running he loved growing fruits and vegetables and even bred dobermans!"
In a YouTube video of the June 5 live-streamed service, daughter Lesli said Ralph had a hot temper but "if you had a fat tire, he would help." He had lived in the United States, including Florida, but returned to Trinidad. By 2009, his decline in mental acuity was noticed and he was diagnosed with Alzheimer's in 2010.
He "made me a more serious, responsible person," Lesli said. She saw her late mother and Ralph in heaven "passing the crossword puzzle back and forth and taking walks."
His T&T obituary mentioned his survivors, but not all of them.
"Please note that the mother of all his children was Merle Romain (who unfortunately passed away on April 7, 2021)," Jacqueline wrote me. "The woman listed as his wife was his second wife (but that's a whole other story). He also had 12 grandchildren and 2 great-grandchildren."
As usual, when a masters track great goes to the big meet in the sky, there's always a "whole other story." I'm glad I learned more of Ralph's.
As Dave Ortman wrote: RIP — Run in Peace.
In memory of Jules Lucas
Jules Lucas was the chief timer at Landover nationals.
His old website at R and R Timing in Maryland said his company's mission "is to provide reliable, high quality track & field timing & data management services. The job of effectively managing track & field information during a meet is not easy. We pride ourselves in providing a dependable service to Coaches and Meet Directors enabling to focus on what really counts — the competition of the meet, rather than the validity of the results."
PVTC president Craig Chasse wrote, "Jules worked our PV Games for many years with the timing crew and was a great official working many meets in the area over the years. He had a great amount of knowledge about track and field, and he was always a welcome addition to our meets. He won our club's president award two times for his service and dedication to the club and the entire track and field community. We will send more information about services as we hear about them.
In memory of Felix Rogers
1949 - 2021
Coach Rogers was head coach of Randallstown Track Club, a youth track and field program operated under Liberty Road Recreation and Parks Council of Baltimore County Dept. of Parks and Recreation since its formation in the mid-1980s
Coach Rogers was ACEP Leader Level certified, USATF certified Level I, Level II in sprints & hurdle and jumps, Lead Instructor, was pursuing Level III, and was a Baltimore County Public School certified track coach
Gertrude ("Betsy") Peace wrote: "Coach Rogers' passing leaves a huge void in our DMV community. He was devoted and passionate about our youth track and field program in the DMV. He used to hold extra meets to help our athletes meet standards to qualify for national meets. He also was instrumental in providing opportunities the AAU qualifiers to our area. "Felix" as we all called him will definitely be missed.
In memory of Dr. Salvatore "Sal" Benjamin Corrallo
1931 - 2020
Dr. Salvatore "Sal" Benjamin Corrallo (January 3, 1931 - December 14, 2020) served many years as president of Potomac Valley Track Club
A top-ranked race walker, he was also a talented organizer who brought out the best in everyone he knew.
He was also active nationwide on USATF's Masters Committee and locally supporting the certification of track & field officials.
In memory of Walt Washburn
1922 - 2020
Walter Hinds Washburn 10/12/1922 - 10/29/2020
Walter H. Washburn passed away peacefully in his sleep on October 29, 2020, at the age of 98.
He was born in Rochester NY and grew up in Monmouth ME and was a resident of Vienna VA the past 62 years.
Walter served in the Army Air Corps during WWII, stationed in New Guinea and Okinawa.
He retired in 1984 from Kiplinger Washington Editors as a computer programmer/systems analyst.
He was a locally well known, avid long distance runner, setting several American age group records.
He ran countless marathons including multiple Boston and Houston Marathons and as far away as the Stockholm Marathon.
He was known as a gentle, kind soul, well beloved by family, kids, friends and pets.
He is survived by his loving wife of 65 years, Nellie Marie Washburn, his sons David Washburn of Houston TX and Kevin Washburn of Centreville VA and their spouses, Jill Washburn and Karen L. Washburn, five grandchildren -- Erika Washburn, Sarah Shook, Tyler Washburn, Michael Washburn and Sebastian Washburn, niece Diane Freda and nephew Michael Freda.
A private burial service will be held at Quantico National Cemetery.
In lieu of flowers, please consider a donation to the Juvenile Diabetes Research Fund (jdrf.org) or the Fairfax County Park Foundation (fairfaxparkfoundation.org; in "Add special instructions to seller" insert "In honor of Walter H. Washburn").
In memory of Sharon Good
1932 - 2020
Sharon Elaine Holwerda Good, 87, passed away in Adelphi, MD on September 17, 2020.
She was born October 14, 1932 in Indianapolis, Indiana. After attending college at Indiana University, majoring in Mathematics and Education, she migrated to the Washington, DC area to work for the Navy at the former David Taylor Model Basin. As computers became more important she became a programmer. This was during an era when few women worked professionally full time.
With her children, she was active in Boy Scouting and Girl Scouting.
Upon retirement, she became a nearly full time track and field official when she was not competing herself. Most often she officiated throwing events and judged racewalking. Up until a stroke 4 years ago she was an active member and board member of Potomac Valley Track Club. The club awarded her the President's Award three times and the Ed Barron Memorial Service Award twice. She holds records for 80+ year hammer and weight throws. She was inducted into the Maryland Senior Olympics Hall of Fame in 2019.
She is preceded in death by her son, Tim Good and husband, Richard Good. She is survived by children, Kathy Good, Chris Good, Gwen Adams, and Ted Good and grandchildren, Io Good, Gwen Neuhaus, Daniel Neuhaus, and Danielle Adams.
An event will be planned in the future.
In memory of Audrey Lary
1934 - 2020
Audrey Lary passed away on July 30, 2020, in Olney, MD.
Audrey was a mainstay of the club and a member of both USATF Masters Track & Field Hall of Fame and Maryland Senior Olympics Hall of Fame.
She still holds a total of eight American records (four indoor and four outdoor) in the long and triple jumps.
She has also held others in the weight throw and superweight but those have been broken in recent years.
Audrey's Facebook page includes more photos.
Audrey's obituary in The Washington Post | DOC | Original
Audrey's obituary in The Frederick News Post | DOC | Original
In memory of Patrick Brown
1944 - 2020
Pat loved running. In high school, he ran track. Then in mid-life, he became a marathoner. He ran over 60 marathons. He directed the GW Birthday Marathon for DC Roadrunners for 15 years. He was an active member of the Reston Runners Club. He convinced his partner, Leslie, that she could run more than one marathon and helped her run a marathon in every state. He missed a few of the states due to work constraints. And was jealous that he "only" ran in 41 states.
Pat was planning on climbing another mountain, going on another hike and a ski trip. Also, he was trying to figure out how get in those last marathons in 9 more states.
In memory of Gerald (Jerry) Merkel
1952 - 2019
Gerald Merkel (age 67) of Arlington, VA, known to friends and family as Jerry, died unexpectedly of metastatic pancreatic cancer in his home in the Adirondacks on January 22, 2020. Jerry was a dedicated and cherished husband, father, and grandfather. He was a true partner in everything with his wife of 37 years, Cathy Ventura-Merkel. He embodied hard work, joy, and love of family, especially for his four children, Luke, Brett, Matt, and Molly. As a grandfather, he was enthusiastic, energetic, and loving with his new grandchildren, James and Meredith. To meet Jerry was to be charmed by his humor and larger-than-life personality. Jerry was born on July 15, 1952 in Bowie, Maryland, to Arthur "Otto" Merkel and Margaret "Peggy" Maher Merkel. He attended Bowie High School, where he was a star football player, wrestler and track runner. He earned a football scholarship to Bowie State University, which he attended while living at home so he could help his family on Merkel Farm. After graduating from college, Jerry became an avid and accomplished runner in the DC area. Through running, he made many close friends, eventually became a 2:33 marathoner, and met the love of his life, Cathy. Jerry worked for 35 years as a department director at the Pension Benefit Guarantee Corporation, before retiring to go onto a second career at the Stratford Program, where he worked for 10 years with kids with special needs; it brought great joy to his life. Jerry thrived when active and could rarely be found "burning daylight," as he put it. He loved hiking with his family, and in 2014-16 completed all of the high peaks in the Adirondacks with Cathy, becoming a proud 46'er. He enjoyed time at Brant Lake NY, skiing with Cathy and Molly, daily runs, and frequent walks with his golden retriever, Maggie. He loved being outdoors and being surrounded by family. Jerry is survived by his wife, Cathy; his children, Luke, Brett, Matt, and Molly Merkel; his grandchildren, James and Meredith Merkel; his daughters-in-law, Anne and Shannon Merkel; his sister, Joyce Willey; his brothers, Jim (Helene), Ernest (Stephanie), and Tommy Merkel; and many in-laws, nieces, and nephews. A service was held on Thursday, January 30, at 10:30 a.m. at Holy Trinity Catholic Church, 3513 N Street NW, Washington, DC. It was followed by a reception at the Merkels' house in Arlington, VA, open to all. In lieu of flowers, contributions can be made in Jerry's name to the charity of your choice, to Pancreatic Cancer Action Network, or to Jerry's grandchildren's scholarship fund at
http://www.everloved.com/life-of/gerald-merkel
Published in The Washington Post on Jan. 26, 2020
In memory of Ty (Rip) Brown
1945 - 2019
"Very sorry to learn of the passing today of Masters Superstar Ty 'Rip' Brown, 74, after a valiantly fought illness. A wonderful man whom I had the pleasure to photograph in competition for many years. One of the greats. He will be deeply missed." -- Rob D'Avellar
In memory of Bill Osburn
1923 - 2019
Bill Osburn won countless races in his age group including many PVTC events.
Biography in The Washington Post
In memory of Vincent McDonald
1970 - 2019
Vincent McDonald was a prolific racer in the DC area for many years
Biography in The Washington Post
In memory of Susie Barnes
November 18, 1927 - 2019

Susie Barnes (on right wearing #35) was active as a sprinter for many years.
In memory of Dr. John Martin
June 12, 1927 – March 26, 2019
From Dignity Memorial | Original
John Oliver Martin, MD, of Ashburn VA, passed away on March 26, 2019. John was born on June 12, 1927, in Washington DC, to James O. Martin and Jeanne S. Martin. Preceding him in death are his first wife, Edith Martin in 1999, son John O. Martin, Jr. in 2010, five brothers: James, Paul, Christopher (Henry), Jacques (Jack), and Joseph (Joe), and one sister, Jeanette. Paul and Jack were killed in action in World War 2. The Paul and Jacques Martin Post of the Veterans of Foreign Wars in Falls Church was named for the two brothers who were killed.
He is survived by his second wife, Dianne (Dody) Martin, his sons Timothy Martin of Newark DE and Michael Martin of Vienna VA, his daughter Peggy Suggs of Front Royal VA, grandchildren Anne Martin of State College PA, Jennifer Martin of Salisbury MD, Stacie Smith of Bear DE, and Eric Martin of Newark DE.
He is also survived by a sister, Kay Britto of Wrightsville Beach NC and many nieces and nephews.
John is also survived by two stepchildren, James Pruett of Collierville TN and Sarah Shamlal of Vienna VA, six stepgrandchildren and seven step-great-grandchildren.
Having graduated from Western High School in 1945, John served in the US Army from 1945-1946. He graduated from Washington and Lee University in 1951 and from George Washington Medical School in 1955. Dr. Martin was a family physician in Falls Church VA, with a group in several locations in Northern Virginia, and at the Manassas Medical Center.
John had a passion for track and was on the track team in high school and college, and then with Potomac Valley Track Club until age 85. He finished third in his age group in the National Masters track meet in the 300-meter hurdles at age 65. He also served as team doctor for Annandale and George C. Marshall High Schools' football teams.
He was a member of the Widowed Persons Service (WPS) of Fairfax County, where he met his second wife Dody.
After retirement, he spent his time fishing, gardening, playing softball in the Northern Virginia Senior Softball League, and working in the house and yard. In his last years he lived at Ashby Ponds Retirement Living Community in Ashburn VA.
He lived most of his life in Falls Church, Arlington, Fairfax, and Ashburn.
Visitation was held at Demaine Funeral Home at 10565 Main Street, Fairfax VA 22030 on Friday, March 29, 2019, at 6:00 PM, and services were held on Saturday, March 30, 2019, at 11:00 AM. Interment will take place on Tuesday, April 2, 2019, at 1:00 PM at Fairfax City Cemetery.
A tribute gift may be made to ServiceSource Foundation:
ServiceSource Foundation Attn: Alex Roos, Manager, Donor Relations, 10467 White Granite Drive, Oakton VA 22124
In memory of Anne Viviani
From Arlington Sun Gazette, by Dave Facinoli, April 16, 2018
Talented athlete remembered as vibrant, helpful
For years, any discussion about top athletes in Arlington County wouldn't last long until the name Anne Viviani entered the conversation.
For two decades, Viviani was one of the country's and world's most highly-accomplished triathletes, duathletes, aquathletes, multisport athletes and more, winning multiple national and world age-group individual and team competitions.
On April 9, while returning from a duathlon national-championship-qualifying event in South Carolina with her husband Donn, Viviani was killed at the scene when the car she was riding in was struck by a deer on Interstate 85 near Greer, S.C. She was 68.
Photos at memorial service for Anne Viviani, Arlington Sun Gazette, by Dave Facinoli, April 25, 2018
Original article in Greenvile (SC) News
In memory of David Harrell
July 17, 1942 – May 4, 2018
In memory of Richard M. Good
Richard (Dick) Merton Good, age 88, of Silver Spring MD passed away January 8, 2018, at his home in Silver Spring MD.
He was a graduate of Indiana University and University of Maryland (PHD). In between his degrees, he served in the Korean War. As a postgraduate, he worked at University of Maryland, eventually becoming the Director of Institutional Research. Upon retiring he moved to Garrett County MD for many years before coming back to the DC area.
In the 1970s in preparation for Boy Scout backpacking trips, he took up distance running to get in shape. He kept running longer and longer until he officially became an ultra-marathoner, where he won numerous masters awards in marathons through 100 milers throughout the Midwest and East. Dick was a JFK 50 Mile "Legend" with more than 20 finishes. In addition, in his 60s, he finished at least three TRACs, a 158-mile, 4-day run across Virginia. He was known for not carrying food or water on his runs or races. At aid stations, his preferred drink was sugar poured into flat cola. To Dick, carbo loading meant having a beer after the race. One of his disappointments was that he was never featured on the cover of UltraRunning Magazine.
He was a member of Potomac Valley Track Club (PVTC) and D.C. Roadrunners Club (DCRRC). He was also active for many years in The Athletic Congress, the predecessor to USA Track & Field. He directed the Schlitz Marathon and many Howard County 24-Hour Relays. Until he was on the losing side of a car/pedestrian accident two years ago, he was still an active runner/shuffler in the Calverton MD area.
He was a history buff with an extensive collection of Civil War books. He also enjoyed writing and telling tall tales. He was an avid supporter of Chautauqua history performances and active in the Garrett County MD Civil War Roundtable.
Dick is survived by PVTC/DCRRC runner-daughter Keg Good of Woodbridge VA; former PVTC walker Gwen Adams of Holly Springs NC; longtime PVTC and DCRRC race official and former wife Sharon Good; and many other non-runners. Dick was preceded in death by PVTC/DCRRC runner/walker-son Tim Good.
In memory of Tidal Basin Run past vice-president / PVTC Treasurer Peter Blank
In 2017, we bid farewell to PVTC's treasurer and resident humorist Peter Blank
by Jay Jacob Wind, president, Tidal Basin Run; secretary, Potomac Valley Track Club
Peter, the man with no last name, we miss you. You literally led the path for us. You painted the markings Tidal Basin Run uses every month to demarcate our 1500m, 3000m, 5000m, and when there's a will or a Way, 10000m and 15000m. You helped lead Tidal Basin Run out of the complexities of finding a permanent location, about a decade ago, after National Park Service asked us nicely to drift away from West Potomac Park. Like Alexander Hamilton, you invented Tidal Basin Run's treasury. You helped us join as a self-sufficient member of RRCA by suggesting a $10 more-or-less-lifetime membership and Presidential Fitness Runs on national holidays.
When PVTC's treasurer stepped down, you stepped up, filed our tax returns, and then kept our books for many years. As PVTC's team captain, you herded our cats, organized our relay teams, and led us to USATF Masters Indoor Championships in 2013 and 2015.
Peter, ever the friend, ever the inspiration, ever the well-organized guy amidst less-well-organized chaos, you were always there for us until your illness tore you away, and we'll be there for you on Saturday, December 9, at your memorial service. Our Tidal Basin Runs Wednesday, November 15, and our Cranberry Crawl races Saturday, November 18, we dedicate to you.
by Lois Dicker, champion race walker, Potomac Valley Track Club
Peter savored racewalking. He took all it had to offer and then spread out its joys to everyone he came in contact with. I have 2 pair of neat blue racewalk shoes because Peter brought them back from Maine at a discount for me and a lot of us. He seemed to enjoy sharing his luck at such a find. He loved Maine, and he shared Maine stories with me when I carpooled with him on a trip to the U. of Delaware for an indoor track meet some years back. I'm not a big talker, but Peter made our trip easy for me sharing Philadelphia experiences (my home town), his favorite sandwich which I must try at lunch, etc. Peter seemed to be everywhere there was a racewalking event. At P. G. Sportsplex indoor track meets, he would finish his race and then stand on the sidelines loudly cheering those of us still finishing. Since I was always slower, I always got the cheers. When I went to any of the Ed Barron winter races, there was Peter, usually at the sign-in table stomping up and down to keep warm, but always cheery and welcoming, often wearing a Dunkin' Donuts orange and pink hat. He did so much for the club; he made racewalking look like fun; he made you feel good. There's no good way to sum up Peter, perhaps, only to say, it was a joy to have known him.
Obituary, Peter Blank, long-time Kiplinger editor, Club Silver Owl, 63 National Press Club Wire
November 9, 2017
by Kevin McCormally
Peter Blank, 63, long-time editor of Kiplinger Tax Letter and a Silver Owl member of the National Press Club, died November 7 after a long battle with cancer. Peter's wife, Georgeann, reports that Peter died peacefully at home, with her and their daughter, Elizabeth, at his side.
Beyond his journalistic accomplishments, Peter was well known for his athleticism around the club. He was instrumental in starting the media softball league, and often referred to as the "commish." He was a regular at the fitness center, exercising at noontime nearly every work day, either on the treadmill or using the club as his base for multi-mile runs around the monuments (taking special pride in his endurance on Code Red days). Peter's penchant for exiting the club in skimpy shorts and shirtless led to the establishment of a stricter dress code for runners.
In recent years, Peter became an accomplished and decorated speed-walker, participating in Senior Olympics and Senior Games around the country. A fierce competitor, his real joy came from his skill as a tactician putting together relay groups that could run to victory. In the 27 months since he was diagnosed with cancer, Peter's relentlessly upbeat nature buoyed the spirits of his friends. Peter joined National Press Cub in 1984 and suspended his membership last year due to his illness. A native of Pennsylvania, Peter held a degree in civil engineering from Princeton University [hence the orange & black borders], a doctorate in law from Widener University School of Law, and a master of laws in taxation from Georgetown University.
A memorial service was held Saturday, December 9, at 11:00 AM at Fairfax Memorial Funeral Home, 9902 Braddock Rd, Fairfax VA 22032.
by Beth Blank
It's with great sadness that we announce that my dad Peter Blank passed away last night after a 2 1/2 year battle with bladder cancer. Though he faced a very serious prognosis from the start, he fought relentlessly and truly beat the odds of someone diagnosed with such a devastating disease. I will remember my dad for his fighting spirit, for his love of running, for being my #1 cheerleader, as well as for being the most passionate Philadelphia sports fan I've ever met. He amazed me in so many ways, from his ability to do extremely complex math in his head to knowing essentially every Seinfeld quote. He was truly a unique man and I'm so thankful that I was able to have 22 great years with him.
2016
We bid farewell to one of Virginia's greatest masters runners Mel Williams. He never missed a Marine Corps Marathon.
Frequent competitor and PVTC memberMary Lathram
PVTC racewalker, author, scientist, and raconteur Charlie Boyle
2015
In memory of Don Riggs (July 9, 1939 - 2015)
We bid farewell to club membership secretary Don Riggs.
Don was close to us all, reliable, responsible, unflappable.
We will dearly miss him
Watch Don Riggs measure Bruce McBarnette's world-record hgh jump in this vintage video
In memory of Diane Pinn Williams (2015)
Diane Pinn-Williams, beloved wife of competitor and announcer Chuck Williams
In memory of Dr. Alfred Morris (July 20, 1942 - 2015)
2014
In memory of Ezzat Pashai (May 21, 1935 - December 14, 2014)
Ezzat was born in Iran during the reign of Shah Reza Pahlevi.
His son Afshin wrote:
I recall is that he was happiest when competing or helping young athletes. When young, he scouted for competitors and according to my mom, he saw a tall muscular man in a woodworking factory in northern Iran. Ezzat asked him if he wants to come to the capital and see if he would like to try Track and Field and my dad would pay for his expenses out of a budget he was given by the Shah (The King at that time). Ezzat not only coached this man (Salman Hessam), but Hessam became his competitor in Discus throw and eventually competed in the 1976 Summer Olympics.
For a more complete biography and more photos, please see www.pvtc.org/epashai
We also bid farewell:
2013
2012
We bid farewell to
Mort Diamond
In memory of Charlie Boyle
November 22, 1923 - November 17, 2016
PVTC Race walker, author, scientist, and raconteur
by Wendi Winters, Capital Gazette
Charles "Charlie" Boyle, 92, was known for his big, sunny smile, his love of exercise, his compendium of pun-filled "Boyle's Laws." After his retirement 21 years ago, he took up the Olympic sport of racewalking. He'd been a competitive runner, but did not enjoy the stress on his bones and muscles caused by the constant pounding stride of running. In his 80s and 90s, Boyle and the teams in which he participated set national records in USA Track & Field Indoor 3K and 5K racewalk competitions and was a gold medalist in the Senior Olympics. In 2014, at age 90, he was a member of the first men's relay team aged 90 and older to participate in the USA Track and Field Masters Outdoor Championships at Wake Forest University's Kentner Stadium. The 5-member team raced in the 4x100 meter relay, the 4x400 and the 4x800 relay, setting three world records as the oldest team to ever cross the finish line in those events. The group, recruited by Charles Ross, then 91, of Decatur, Arkansas (now 93), included Champion Goldy, Sr., 97, of Haddonfield, New Jersey (died Nov. 11, 2016 at age 98); Orville Rogers, 96, of Dallas (now 98); and Roy Englert, 92, of Springfield, Virginia (now 94). Charlie was the "baby" of the team. The men had never met before. "Our only requirement was to cross the finish line alive," Boyle said. In July 2015, despite having a broken foot, Boyle returned and teamed up with three other men, Ross, Rogers and Englert, to break the world record for running in the 4x200 meter relay. They ran it in 5 minutes, 40.82 seconds, a record for that age group, and they were the only contenders.
Read the complete story | Original in Capital Gazette
In memory of Mary Lathram
June 28, 1915 - April 11, 2016
Frequent Competitor and PVTC Member
Born in Portland, Oregon, on June 28, 1915, passed away April 11, 2016. She received her BA from the University of Oregon in 1936 and MA from Duke University in 1938. She taught for many years, leaving San Francisco, CA for DC the week after Pearl Harbor. She met Wade Lathram while working at the Pentagon and married in 1943. In 1948, Wade and Mary helped found the Unitarian Universalist Church of Arlington. UUCA was an integral part of their lives, and they both served as chair of the board of Trustees. She sang with the choir for 50 years and had a lifelong love of singing and music. As an avid learner/reader, Mary was part of a book club for 60+ years recently featured on an NPR special. Wade joined the Foreign Service (FS) in 1952, where they served U.S. embassies in India, Turkey and Korea. Mary worked tirelessly to fulfill FS's goals and later served as chairman of newly-formed Foreign Service Wives Institute for four years.
In 1971, she began a three-year FS inspection tour of embassies and consulates in 36 countries. Mary served on the board for seven years and as board president of Culpeper Garden in Arlington. She also worked with the Lab School of Washington as a tutor for eight years, and 1977-1980 served as coordinator for the Kingsbury Center's Northeast Training and Tutoring Program for African-American women to become tutors in their own schools in Northeast Washington. In 1987, Mary and Wade moved to their new home, Goodwin House Bailey's Crossroads, where Mary had many fulfilling roles serving her new community. At 64, Mary became an active competitive swimmer and race walker, attending local, regional and national swim meets and track meets. She enjoyed participating in Senior Olympics and masters swim meets, holding the national record for the 1-hour swim for the 95-100 year age group.
Mary was predeceased by Wade, her husband of 57 years, and her son, David. She is survived by her children, Tom (Annie), Elizabeth Gillespie (Liam), and Steve (Lorna) Neang (Rithonn) Om, and Sohkan Hing; six grandchildren, four great-grandchildren and one great-great-grandchild. Mary participated in life with unbridled energy, dedicated to contributing and making a difference. Services were held at Goodwin House Bailey's Crossroads on Saturday, May 21 at 2:00 PM. In lieu of flowers, donations may be made to Goodwin House Foundation and/or Unitarian Universalist Church of Arlington.
Obituary in The Washington Post, May 15, 2016
In memory of Dr. Mel Williams
December 9, 1937 - May 19, 2016

38-time Marine Corps Marathon finisher Dr. Mel Williams
Obituary by George Banker

In memory of Donald J. Riggs
July 9, 1939 - March 18, 2015
Long-time Membership Secretary of Potomac Valley Track Club and Masters-Level USATF official
Don Riggs, 75, Ellicott City, MD, passed away on March 18, 2015, after a three-month fight to recover from an auto accident on December 12, 2014, in the Baltimore, MD area where he had lived since 1961. Don was born and reared in Pittsburgh, PA. He earned a degree in Mathematics from Allegheny College where he also was a member of Theta Chi Fraternity. Don worked for the Social Security Administration for more than 53 years, from 1961 until his death. He was active in the Sports Car Club of America, was an avid cyclist, and devoted much time and effort to Potomac Valley Track Club. He was a licensed track and field official, serving for many events in the region. Don had won trophies in the Senior Olympics.
Don was predeceased by his parents, Winston and Margaret Riggs. He is survived by his brothers, Richard "Dick" (Donna) Riggs, of Pittsburgh, PA, William "Will" (Shirley) Riggs of Middlesex, NJ; two nephews, James (Kate) Riggs of Willoughby, OH and Martin (Michelle) Riggs of St. Petersburg, FL; two nieces, Joni (Jim) Chapas of Hudson, OH and Karen Riggs of Tampa, FL. He is also survived by several grandnephews and grandnieces.
At Don's request, his body has been donated for medical education and research, and his eyes to the National Eye Bank.
Memorial contributions may be made in his name to the University of Maryland Medical System Foundation, 110 S. Paca St., 9th Fl., Baltimore, MD 21201 or The Fund for Johns Hopkins Medicine, 750 East Pratt St., 17th Fl., Baltimore, MD 21202 or the Lutheran SeniorLife Foundation, 105 Burgess Dr., Zelienople, PA 16063
Obituary on PostGazette.com
In memory of Val Lewton Jr.
d. April 24, 2015
Member of D.C. Road Runners Club and race director
On Friday, April 24, 2015, exhibits designer and painter Val E. Lewton died of cancer. Born in Santa Monica, California, son of movie producer Val Lewton and Ruth Knapp, Val had a successful career in the Washington, DC art world. He spent 32 years at the Smithsonian Institution, designing hundreds of exhibits, including the award-winning Louis Comfort Tiffany Exhibition. He retired as Chief of Design at the Smithsonian American Art Museum. Val continued to design exhibits as a consultant, working with a variety of museums, most notably The Phillips Collection. An artist since childhood, for more than 50 years. Val was known for painting urban landscapes of DC. He exhibited in galleries and has work represented in museum collections. Val's extensive photographs reflect historical changes in the neighborhoods around Gallery Place, and his public art projects include the "trompe l'oeil" airshaft mural at 3rd St. and Massachusetts Ave. NW, Washington, DC. Val was very active in supporting local arts including being president and founding member of The Studio Gallery. He penned illustrations for Smithsonian Magazine and published art critiques. He is well known for The Washington Review article "Where Has All the Color Gone?"
A dedicated runner, Val was president of the Beltway Striders. He ran more than 20 marathons, including 8 Boston marathons. In his running career, Val's best marathon time was 2 hours 43 minutes. A sailor since childhood, Val actively raced sail boats until the fall of 2014.
Val is survived by his wife, Claudia Minicozzi, sons Christopher and Victor Lewton and their wives, stepchildren Bill, Alex and Regis Minicozzi and their spouses, and nine grandchildren. His marriage to Jean Kling ended in divorce.
A memorial service was held on Friday, May 8 at 3 PM at The Washington Ethical Society.
Obituary in the The Washington Post
In memory of Wain Barnes
October 28, 1940 - March 15, 2015
Member of Potomac Valley Track Club and frequent competitor at our meets
Wain dearly loved participating in these meets and so admired everyone's participation and enthusiasm for track & field. Wain was an accomplished watercolor painter. Motmots, Speedo bird
Wain was captain of XC and track teams at Stony Brook School (Class of 1958) and ran the 440 for Duke (Class of 1962) where his mile relay team won the ACC championship, beating favored University of Maryland. He also lettered in track in law school at Washington And Lee. The 1957 IVY was his last xc race, where he lost to Coane by 1 step but beat a skinny sophomore named Lingle. He wrote, "I am now 70 and running masters track, hoping for the gold in the sprints in my age group this summer, but I will never forget our great teams at SBS and Coach Goldberg."
Source from www.StonyBrookBears.org
In memory of Alan Price
d. January 7, 2015
Member of Potomac Valley Track Club and 1980 Olympic Race Walker.
Alan held many race walking records. In 1980, Alan was selected as an Olympic race walker, but unfortunately his Olympic year was the one President Carter cancelled when Soviet Union invaded Afghanistan so he didn't get to participate. Beloved husband of Teresa, loving and dedicated father of Alexander, Alan Jr. and Amir. Friends will be received on Saturday, January 17, 2015, from 10 AM until time of funeral service at 11 AM at Plymouth Congressional United Church of Christ, 5301 North Capitol Street NE, Washington, DC. Service will be followed by Interment at Fort Lincoln Cemetery, 3401 Bladensburg Road, Brentwood, MD.
Obituary on DignityMemorial.com
In memory of Norman Philip Brand
July 23, 1933 - July 11, 2014
Founding member of Potomac Valley Track Club and its long-time registered agent
Norman P. Brand died suddenly of cardiac arrest. Born in Dayton, Ohio, he attended Jefferson Elementary and Fairview High schools. He ranked 8th out of 300 graduates. His intellectual prowess was evident at Miami University where he was initiated into Phi Beta Kappa. His parents were George Henry Brand and Katherine Rothenbach Brand. His only brother, Howard, now resides in Centennial, Colorado. He worked as an economist/statistician, Bureau of Labor Statistics and retired as a GS 9. He volunteered for the U.S. Army, stationed in Germany. Later he worked for several years in Afghanistan as a statistical advisor for the Ministry of Planning. He was a highly regarded numismatist and was known for his activities in track and field as an official for Olympic games around the world. A 50-plus year resident of the District, he lived in Palisades, until he moved to Sunrise Connecticut Ave, a senior living community, in 2011.
He was a lifetime member of the American Numismatic Association; active in the Ancient Coin Society of Washington, the Washington Numismatic Society, the Montgomery County Coin Club and others. He collected trains and was a member of the National Railway Historical Society, DC Chapter, and he was a member of DACOR, an organization of foreign affairs professionals. Besides his brother, he has two nephews, cousins, and a former wife of 9 years, Christine Steel, with whom he remained friendly. He was adored by many and known for his characteristic vocables, grunts, wry humor, spaetzle, and anything chocolate! A Celebration of His Life will be held on Sunday, July 20, Sunrise Senior Living, 5111 Connecticut Ave., N.W. from 2 to 5 pm. His ashes will be interred in Dayton, Ohio, at Woodland Cemetery with his parents.
Obituary on DignityMemorial.com
In memory of Edward G. Seeger
September 1, 1915 - January 23, 2014
Edward G. Seeger 98, died on January 23 at Virginia Hospital Center. He lived in Falls Church. Mr. Seeger was born in Appleton WI, He graduated from the Univ. of Wisconsin with a degree in Geology. He came to Washington in 1942 and worked for the U.S. Geological Survey. In 1944, he joined the Navy as a photo intelligence officer. In 1948, he joined Central Intelligence Agency. He was head of the Africa Branch in 1974 when he retired. Mr. Seeger was an avid race walker who held many records for his age group, competing in Senior Olympics and Potomac Valley Track Club.
He also sang in the Saint James Catholic Church, Falls Church VA, choir for 20 years and enjoyed music. He enjoyed international travel, having visited nearly every continent. After retirement from CIA, he worked as a travel agent for NEA (National Education Association) Travel.
He was preceded in death by his wife Joan Seeger and a son. Survivors include two children, Edward P. Seeger of Falls Church and Janice Seeger of Arlington; and a sister. The family received relatives and friends from 5 PM to 8 PM on Wed., January 29, 2014 at Murphy Funeral Home, 1102 W. Broad St., Falls Church, VA. His Memorial Mass was celebrated at 10am on Thurs., January 30, 2014 at St. James Catholic Church, 103 N. Spring St., Falls Church, VA. Interment was private.
Obituary in The Washington Post
In memory of Carla Cesarina Bonfanti Convery
A long-time resident of the Mount Vernon area and former owner of Mike's Italian American Restaurant, Carla passed away at her home on November 20, 2013, at the age of 93. She was born March 7, 1920 in Como, Italy, to Maria Begalli Bonfanti and Mario Bonfanti. On March 9, 1947, she married William F. Convery in Cividale, Italy. She moved to the United States in 1947 and in 1952 became a U.S. citizen. Throughout her life, Carla was an avid runner and athlete. In 1936, she qualified as second runner-up for the 1936 Olympics in Berlin, Germany. One of her greatest thrills was meeting Jesse Owens and watching him run. In 1940, she qualified for the Summer Olympics in Helsinki, Finland, which was cancelled because of World War II.
In 1971, Carla and her two sons purchased Mike's Italian American Restaurant and in 1975, sold the restaurant and retired. Five years later, she renewed her involvement in track & field events in the Washington DC area. In 1983, she became an original member of Hollin Hall Senior Center, where she taught exercise classes for 26 years and served on the Advisory Council as secretary and treasurer. She was an active volunteer at Hollin Hall Senior Center, Gum Springs Senior Center, and Mount Vernon Adult Day Care Center.
As a senior citizen, she participated and accumulated awards in many competitions; World Games, Senior Olympics, Golden Age Games, Senior Nationals, Virginia Commonwealth Games, National Senior Games, and Potomac Valley Track Club's masters track, to name a few.
She received Potomac Valley Track Club Ray Gordon Outstanding Athlete Award, Commonwealth of Virginia Female Athlete of the Year Award, and Retired and Senior Volunteer Program Life Time Achievement Award. Her husband, William F. Convery Sr. died in 1962. Carla is survived by her two sons, William "Bill" (Nancy) Convery and John Daniel "Danny" (Lois) Convery; five grandchildren, two great-grandchildren and her close friend, Kate DeAngelis. Family received friends on Sunday, November 24 from 6 to 8 p.m. at Demaine Funeral Home, 520 S. Washington Street, Alexandria, VA 22314. A Funeral Mass was held on Monday, November 25 at 10:30 a.m. at Saint Louis Catholic Church, 2907 Popkins Lane, Alexandria, VA 22306. Interment took place at Arlington National Cemetery at a later date. In lieu of flowers, tributes may be made to Northern Virginia Senior Olympics, P.O. Box 2089, Merrifield, VA 22116 or to Potomac Valley Track Club, c/o Peter Blank, Treasurer, 8200 Galahad Court, Annandale, VA 22003.
Obituary in The Washington Post
In memory of long-time club member Tim Good
November 2, 1959 – September 21, 2013

Tim at one-hour racewalk.
L to R: Valerie Meyer, ?, ?, Will Leggett, Tim, Alan Price
Photo by Bobby Briggs
Tim was the son of club vice-president Sharon Good and Dick Good; brother of Gwen Good Adams, Katherine E. ("Keg") Good, and Ted Good; and father of Iolanthe Good. In more than 20 years of competition, Tim never missed a one-hour race walk or a 5K walk on the track. We will all miss Tim.
Tim Good, 53, of Burke VA and formerly of Silver Spring MD died of aggressive cancer September 21, 2013. He lived a fruitful life; chock full of activities that interested him. He was born on November 2, 1959 to parents Richard (Dick) Good and Sharon Holwerda Good, as the second child. At that time, the family lived on 10th Ave in Takoma Park. In rapid succession, 3 more siblings arrived bringing the total number to four. Tim's Mother worked full time for the Navy and his father was a graduate student at University of Maryland. During his childhood there were many babysitters, both day and live in. When he was 3, the family briefly moved to New Hampshire Avenue, then to the White Oak area of Silver Spring MD. Every other summer was spent in Atlanta, Missouri, with his great aunt Edna and great uncle Herschel. At the end of the summer, the family vacation was out to Missouri to pick up whichever lucky child got to spend the summer on the farm. Tim readily picked up the Missouri twang. His time on the farm was spent with animals and in the fields, even driving the tractor and helping to bale hay. Before kindergarten he also spent a winter on the farm.
Tim attended Jackson Road Elementary and White Oak Junior High. Tim was a nearly straight-A student from 5th grade on. He was an avid lifelong reader, particularly of science fiction. He also enjoyed games and jigsaw puzzles, to the level of competing to complete similar puzzles against sister, Gwen. During the time period he was also active in Scouts, first as a Cub Scout, then as a Webelo under Dick's leadership, and finally as a Scout under Dick. As a scout, about twice a month the troop would go camping: rain, snow, or shine. Besides camping, the troop also backpacked the local parts of the Appalachian Trail and biked the whole of the C&O Canal. In Junior High, Tim began competitive running. As a 7th grader, he was at the back of the pack in cross country. By 9th grade he was at the front. In this time period, young male hair styles were long so his curls and waves flapped in the wind. The runners at Springbrook High School in Silver Spring were eagerly waiting for Tim and his peers to enter high school and restore the track program to its past glory. Tim helped deliver although he was in the shadow of some other gifted athletes. He was Maryland state track champion in the indoor 2 mile. At graduation, Tim was awarded the boys' Student-Athlete Award.
He also competed with the DC Roadrunners, starting with the Kids One-Mile Fun Runs, where everyone gets a trophy, and moving to the two-mile Run-For-Your-Life runs, and then the Teen summer series. By high school, he was a regular at 24 hour Relays and various road races. He also attempted the JFK 50 miler several times. In his mid-teens, he followed his sister, Kathy (Keg), into the Explorers. Explorer Post 250 did all sorts of high adventure activities and specialized in caving. Since several post members were athletes, the post entered the local Explorer Olympics and won handily, thus earning the right to compete nationally in Colorado. The driving cross country trips to the National Explorer Olympics were a big deal with many stops to sightsee over the 3 week period. Tim competed in various running events, bike events, archery, volleyball, general knowledge, weightlifting, physical fitness, and who knows what else. Later Tim became an advisor to the post with his brother Chris.
About this time, he took up competitive racewalking and placed in several Junior National Racewalks around the country. At the time, Montgomery County Schools had a ruling that athletes could not compete in non-school events during school athletic seasons. He was part of the movement to overturn Montgomery County Schools' edict that student-athletes could either compete for their school or in non-school events. Although heavily recruited for his academic ability, Tim did not apply to any colleges until about May of his senior year when a family friend and running coach discovered he had been paralyzed by indecision. Within a short time, Brown University accepted Tim and he started on time in Fall 1977. At Brown, Tim ran Cross County. There is some discussion about whether he actually ran on the track team or not. He may have only racewalked in a special event. Tim majored in Computer Science and joined a service fraternity.
Following graduation, mother Sharon helped him get a job with the Navy and he moved into a downtown Silver Spring Hi-rise. He would often metro to the Pentagon, then bike, motorcycle, or run to his employer in Crystal City. During this time he began competing in small triathlons. Following in brother Ted's footsteps, Tim dated one of the Crannells. In 1986, he married Annalisa Crannell. After her college graduation, they moved to Quincy MA. Annalisa commuted north to Harvard and Tim commuted south to Brown for work on his Masters. Eventually, they moved to Providence RI and both attended Brown. While at Brown the second time around, Tim got serious about orienteering, the sport of running with a map and compass. Tim co-founded the Brown O' Team. Brown hosted the US O Champs at George Washington in the 1980's. Tim floated between the red and the Blue courses.
In 1990, daughter Iolanthe (Io) was born. Shortly after Annalisa and Tim separated. Io split her time with Tim and her mother in Lancaster PA.
In 1992, Tim graduated with a Masters in Computer Science and settled in Falls Church VA to work with TASC. Tim was an excellent debugger and at writing technical documentation. After graduation, Tim continued athletic pursuits, running events up to and including marathons. His was a frequent face at race finish lines helping mother Sharon, with finish/results at many area road races. It was not uncommon for him to run or walk then immediately sit down and work on the results. He stayed a member of DC Road Runners and Montgomery County Road Runners. Tim continued to racewalk, winning the local 1 hour racewalk for last 7 years. Nationally he was 12th overall and 2nd in the M50's National Postal 1 Hour Racewalk just last fall. He also ran or racewalked a number of marathons, 24-hour relays racewalks, and local events. He was very active on the national level in orienteering too. He reached a national ranking of 3rd for men over 40 age. Tim also competed in US National Team Trials, National Championships, overseas, and in ROGAINE events. More recently, he attended several local orienteering events. Tim was dancing when he wasn't in the woods, roads, or track. Square, and especially, round dancing became a true passion for him and his daughter Io. He began dancing in 2000 when Io needed a partner. While she was at Bryn Mawr, he drove up to dance with her twice a month. Lately, Tim was active in many square and round dance groups: Merry Notes, Boomerangs, B'N B', to name a few. With his good looks and outstanding dance ability, he was a popular figure in cities across the country. He took up calling in order to become a better dance teacher locally at the Lincolnia Senior Center. Through dancing he met his longtime friend and companion, Beverly Morrison.
One never knew what might strike his fancy. The patterns and analysis attracted Tim to dancing. Another time, he set out to read the entire Encyclopedia Britannica. He was also a cat person and has an impressive collection of PEZ dispensers. Tim's high school cross country nickname was Goofy. One look at his classic funny faces and love of Halloween and dressing up in costumes and it's obvious that he did indeed love being goofy. Please remember him in his goofy lighthearted moments.
Parents: Sharon and Richard Good. Daughter: Iolanthe Mae Crannell Good. Siblings: Katherine, Christopher, Gwendolyn Adams, Theodore. Nieces and Nephews: Gwendolyn Neuhaus, Danielle Adams, Daniel Neuhaus
In memory of Charles Scott Bentley
Club president 1994-1997
Always the hardest worker at our track meets and a frequent competitor
Read about Scott Bentley, LtCol (retired) USMC, Vietnam veteran, loving husband, father, grandfather and friend.
In memory of Mort Diamond
Mort Diamond, Deputy Director, TuTTie's Place, lost his battle with cancer on November 4, 2012. Mort will be truly missed by those who knew and loved him. His personality was bigger than life and his heart was made of gold. He was a small man in stature but his presence filled the room. He gave all of himself, in immeasurable ways to help others to help themselves. When he joined me on this journey some fifteen years ago to provide a home to unwanted and unloved children, neither of us new our work would become a life-long commitment to social injustice. He and I built an organization, TuTTie's Place to ensure homeless youth a safe, nurturing environment, free from the entanglements of poverty, drugs, and violence.
This past March, we honored Mort at the First Annual "Mort Diamond You Make a Difference" Awards Banquet to which he received the "Lifetime Achievement Award". How opportune it was, for at that time he nor we knew the cancer had returned. And, oh how happy it made him to receive such stellar attention from his colleagues, family and friends. I will never be able to repay my Friend and Confidante for his support and non-conditional love of me, my vision and the hundreds of young people whose lives he touched in so many ways. He will always be that Gem of a guy, that Diamond in the rough, so genuine and so sincere. He made a difference in my life and I hope that he will remain forever in your hearts and minds.
The services were held Tuesday, November 6, at noon at Danzansky-Goldberg Memorial Chapel, 1170 Rockville Pike, Rockville, MD. The family suggests, in lieu of flowers to donate to TuTTie's Place.
With Gratitude, Brenda Boyd
"You Make A Difference" Lifetime Achievement Award Recipient
Mort Diamond.
Honoree, Mort Diamond is an impatient man – impatient when he wants to bring out the best in others. Quick to recognize their potential, Mort is passionate about getting them to see it in themselves. Perhaps it was his outstanding success in track and field that accounts for his tendency to rush ahead as he tries to motivate people. As a teenager, Mort mastered the 200 yard low hurdles and set the record at Long Beach High School. At Adelphi College he broke the 21 year old record in the 440 yard Intermediate Hurdles. After 25 years, Mort retired from his managerial role at the Department of Mental Hygiene, but he did not retire from track and field. He built an amazing record of achievement by merging his love for sports with his commitment to his community.
In 1958 Mort married the former Esther Greenberg and then moved to Maryland where they still reside in the City of Bowie. They have three children and five grandchildren. As founder and resident of the Bowie Interfaith Recreation Council, he organized a consortium of 23 houses of worship to compete in athletics for men, women and children. As founder and president of the Maryland Track and Field Development Association, he established the East Coast Invitational Track and Field Championships and for 25 years attracted top youth athletes from 22 states in America and from Caribbean countries, and Japan. Mort supervised approximately 175 volunteers. The event was recognized as the most outstanding youth track meet in the entire country. Mort was founder and coach of St. Pius X youth track team in Bowie. At the Eleanor Roosevelt High School in Greenbelt, MD, his volunteering as assistant coach of the Track and Field Team led to a Maryland State championship.
Mort is the recipient of numerous trophies, awards, citations, and letters of acknowledgement for his devotion to helping at-risk youth in sports and for his civic leadership. Mort knows what it takes to be a winner. With his whole heart, he wants the boys at TuTTie's Place to be winners also. As Co-Founder and Deputy Director of TuTTie's Place, Mort has given of himself in full measure. His dedication, his concern for the well-being of the residents, and his support, both financial and inspirational has resulted in making a very real difference in the lives of the boys he has reached. He believes that we are all charged with nurturing, educating and protecting our children. "It is your duty and it is mine", he says.
How appropriate is his name. Mort is a gem of a person. He is a real diamond.
In memory of Karen Erb
(1951-2012)
Karen Erb of Alexandria died on May 25, 2012. Born April 11, 1951, she was the loving wife of Colonel (Retired) John Jay Erb and their life together of over 39 years including a military career of 27 years. She was an avid runner and marathoner, not so avid golfer, accomplished dental hygienist and world traveler in search of another great bottle of wine. Karen was also a devoted mother to Melissa Erb of Tampa, FL and Stephanie Imamura of Lorton, VA and to her precious grandson, Ryan Imamura. She leaves behind her father, Bobby Twyman; brother, Cary Twyman and his family; and sister, Susan Twyman. She is also survived by her mother-in-law, Marianne Erb and sons-in-law, John Imamura and Jim Billys. She also leaves behind her office mates at the Doctor John T. Grubbs Dental Office in Alexandria and her wonderful patients; as well as the countless friends she has made over her 61 years of life.
Memorial donations may be made to The National Alliance On Mental Illness (www.NAMI.org) or to Alive! of Alexandria, VA (www.alive-inc.org).
Obituary in Washington POST
Printable version in RunWashington Magazine
Printable version
In memory of Col. Alexander "Ray" Gordon, Jr.
(1918-2012)
Colonel Alexander (Ray) Gordon, Jr., of Front Royal VA died peacefully on February 25, 2012, in the loving presence of his daughter Judy. Col. Gordon was born May 30, 1918, in Arcadia, Missouri. He graduated college from Washington University in St. Louis, did graduate work in meteorology at the University of Chicago, and earned an MS in oceanography at UCLA. During WWII, Col. Gordon served in the China-Burma-India area of operations with the Air Transport Command and 10th Weather Squadron of the Army Air Corps. He remained in the service through the Korean War and later worked for the Navy as a civilian oceanographer.
A lifelong athlete, Col. Gordon was a competitive runner for more than 45 years. He competed until age 80, held a number of world age-group records, and competed in many foreign countries. He was co-founder of Potomac Valley Track Club and founder of Shenandoah Valley Runners. During retirement, Col. Gordon became an activist for freethought and many liberal causes. He was a prolific writer of letters-to-editor arguing and defending his views.
Col. Gordon was predeceased by his beloved wife, Maud Powell Gordon. He is survived by his loving daughters, Judy Gordon Mentlik of Westfield NJ and Polly Gordon of Waldorf MD; his wonderful grandchildren Philip Cosmos Bell of New Zealand, Carly Mentlik of CA, Jacob Mentlik of ME and his life partner, Maia Campoamor and their children, Osa and Quilan; his dear sisters, Julia and Elsie Lammert; sister-in-law Alte Faust; and numerous nieces and nephews.
Memorial contributions may be made to Blue Ridge Hospice, 333 West Cork Street, Winchester VA 22601.
Arrangements were by Maddox Funeral Home, Inc., in Front Royal.
in memory of Michael Hazilla
(1946-2010)
Michael Hazilla was a legend. He trained directly under Arthur Lydiard, and he shared his knowledge and experience (without bravado) with those he deemed deserving. Losing him so young seems tragically unfair. I owe my relative success -- in running and writing -- to the fact that he believed in me (Katherine Aldridge).
Obituary in The American University Eagle
In memory of Harold Vincent Connolly
(1 August 1931 - 18 August 2010)
From www.hammerthrow.com:
Wednesday marked the passing of the greatest figure in the history of hammer throwing: Olympic gold medalist Harold Connolly passed away. Harold, who founded this site over a decade ago and still coordinated it until his death, had as deep a love for the hammer throw as anyone. His involvement in the event spanned over six decades from starting the event as a student at Boston College to guiding American teens to start a domestic resurgence in the event. After a career that included four Olympic Games Harold continued his career as a successful coach, guiding such greats as Kevin McMahon. As he got older, his focus shifted more and more to youth throwers, as he knew the key to getting another American on the podium started with teaching more kids the event and spreading it to new people. For the past decade, Harold has been conducting clinics across the country, advocating for the inclusion of the hammer throw at various USATF youth events, and starting the USATF Youth Hammer Throw Training Grant Fund, which awarded over $6,000 to youth hammer throws this year. Towards the end of his life, his efforts began to pay off: despite never having won a gold, America has won the last two world junior titles. Both winners were Americans that Harold mentored.
What many don't know about Harold was that as much as his life was consumed by the hammer throw, he was a well rounded individual that touched many others through his work as an educator, the President of Special Olympics, and as a loving father and husband. There is now a large void wherever his life touched.
Memorial services for hammer thrower Harold Connolly were scheduled for Wednesday, August 25, 11 AM, at:
Saint John The Baptist Catholic Community Church
12319 New Hampshire Avenue
Silver Spring, Maryland 20904
301-622-1122
www.hammerthrow.com also notes a tribute being scheduled in California in September.
In memory of Don Heinicke
Don Heinicke, a national and Olympic quality marathoner from Baltimore, passed away from Alzheimer's. Don is in the Maryland Athletic Hall of Fame and was founder of the Howard County Striders. Don's attitude is right on for our masters - oriented club: "If the body is in good trim, age is no deterrent." Funeral services were in north of Columbia at the Witzke Funeral Home, 4112 Old Columbia Pike, Ellicott City.
In memory of Milford Walter Wood
Artillery Officer, Teacher
The Washington Post, September 30, 2006
Milford Walter Wood, 91, a retired artillery officer in the Army who later taught school in Fairfax County, died of pneumonia Sept. 25 at Inova Fairfax Hospital. He lived in Springfield. Col. Wood, a native of South Bristol, N.Y., and a graduate of St. Bonaventure University, entered the Army in 1940. He served in the Pacific theater during World War II and later in Korea and Vietnam. He received a master's degree in aeronautical engineering in 1948 from New York University. His last assignment was at the Pentagon, and he retired in 1970. Among his military awards were two Legions of Merit and three Bronze Stars.
He taught math and science to junior high and middle school students in the 1970s in Fairfax schools. He was a member of the Potomac Valley Track Club. His wife of 62 years, Alice Jean Davis Wood, died in 2003. A daughter, Nancy Wood, died in 1987. Survivors include a daughter, Susan Wood of San Ramon, Calif.; a granddaughter; and a great-grandson.
Remembering Mil Wood
by Don Riggs
After a full 91-year life including many productive years with Potomac Valley Track Club, Mil Wood has moved on to a higher place. Respiratory problems over the past week finally were more than he could overcome. He passed away quietly with no significant suffering. Mil's passing is a very sad moment for the many members who knew the very likeable former Membership Chairman. Mil is survived by daughter Sue who is his home making arrangements for the funeral. We will inform all of those arrangements. Cards (and calls) may be sent to Mil's home.
In memory of Roger Paterson
Potomac Valley Track Club has lost another outstanding member, as Roger Peterson from Arlington passed away on April 18 at age 67, after a brief bout with cancer. Roger was a video production consultant after retiring from ABC as a video production specialist. Club members will remember Roger as a thrower and official at many of our meets.
The club's sympathies go to Roger's wife Kathy. A memorial service was held at the National Press Club.
In memory of Frank Luff
Frank Luff, one of the grand masters of area running, passed away on Saturday, April 17. Frank was 81.
In memory of Al Heppner
Al Heppner, a longtime PVTC member and a US National Track & Field Team member, died on February 15 at age 29. He had recently finished 5th in the Olympic trials 50km walk. A memorial service was helf in San Jose CA., and a "Celebration of Life" service was held on Saturday, April 17, in the auditorium of Howard High School, Al's alma mater. Friends attended and shared memories of Al. July 25, 2004 -- "Al Heppner - Walking his life away" -- by Gary Smith, Sports Illustrated